If you love of PUBG Mobile game, you're probably worried that the Indian government may soon ban the game.
Since the Indian government banned 59 Chinese apps, it was rumored that PUBG would soon be on the radar as well. and now it is.
So far, no decision has been made as to whether or not to ban PUBG Mobile in the country, but Tencent doesn't seem to be in the mood to risk it.
The company updated its privacy policy for India and displayed in-game pop-up notifications to notify users of the change.
As far as we know, the new privacy policy is pretty much trying to meet the Indian government's requirements for foreign apps.
The policy states that some user data is stored for various reasons. However, for Indian users, these servers are located in India.
The privacy policy also states that the company's support teams, which also have access to user data, are also locally available to Indian users in India.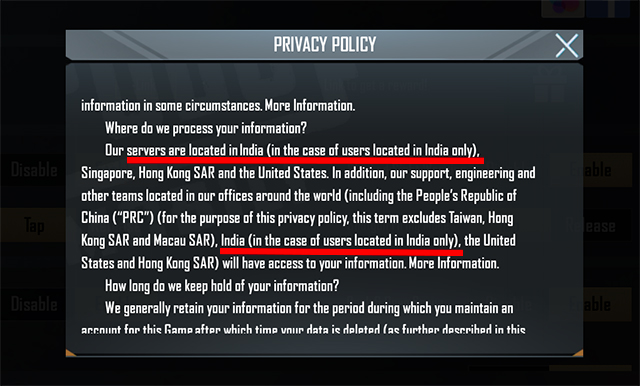 We can't say if these changes can put PUBG Mobile out of the government's sight for now.
However, India is considering another 200 apps, including PUBG Mobile.
We won't get more info about it until Tencent Games or the Indian government say anything about it.
So, Stay tuned for more info on the topic.
Also, Subscribe our Newsletter for instant updates directly in your mailbox. And also,
Wear Mask. Follow Social Distancing. Stay Healthy. Stay Safe.
Happy Gaming!!
---
For The Latest Tech News And Updates, Follow And Connect With Us On Facebook, Twitter And Instagram!
---
Also Read – Google Misled Over Data Privacy: Australian Regulator